The Original Adventures of Hank the Cowdog
is the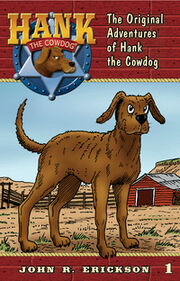 first book in the series, as well as
Hank
's first case, the first chapter, "Bloody Murder!", is the first time we see
Drover
. When called upon by Hank to solve the death of a hen, Drover faked a bad leg (a running gag in the series) and can't go investigate. It has 127 pages.
Ad blocker interference detected!
Wikia is a free-to-use site that makes money from advertising. We have a modified experience for viewers using ad blockers

Wikia is not accessible if you've made further modifications. Remove the custom ad blocker rule(s) and the page will load as expected.