Sally May is the wife of High Loper and the mother of Little Alfred and little Molly.
She is a housewife who enjoys parties and often serves as a civilizing check on her cowboy husband. She is often high-strung, particularly in "The Case of the Killer Stud Horse" and "The Phantom in the Mirror", when she has company coming over. Pete the Barn Cat is her favorite pet and she is affectionate towards both him and Drover. She dislikes Hank, however, and frequently gets angry at him for coming into her yard, her house or fighting with Pete. Her most common response when angered is to try to hit him with her broom. Despite this Hank often seems to think that Sally May secretly respects him. In reality, her feelings fluctuate between disgust and temporary respect as Hank usually follows up his shenanigans with an act of heroism.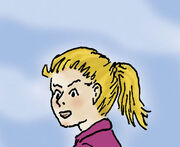 Quotes
"HANK!"
"Don't lick me!"
Ad blocker interference detected!
Wikia is a free-to-use site that makes money from advertising. We have a modified experience for viewers using ad blockers

Wikia is not accessible if you've made further modifications. Remove the custom ad blocker rule(s) and the page will load as expected.