Loper and Sally May's oldest child. Little Alfred likes Hank and often participates in adventures with him. Some of these are harmless, though in "The Case of the Hooking Bull" Alfred deliberately tricks Hank into going into the dryer and then turning the machine on, showing he has a mischievous streak. Most of the story "Lost in the Dark Unchanted Forest" revolves around Hank's search for Alfred when he goes missing in the woods. In this story and a few others Alfred is shown to have the ability to talk to animals, although in later stories he does not appear to have this ability. It is revealed that the older a child gets, the more their ability to understand animals diminishes. Hank is very protective of Alfred and frequently risks his life to protect him, labeling it every cowdog's duty.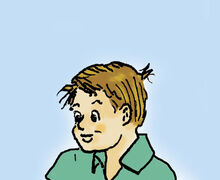 Ad blocker interference detected!
Wikia is a free-to-use site that makes money from advertising. We have a modified experience for viewers using ad blockers

Wikia is not accessible if you've made further modifications. Remove the custom ad blocker rule(s) and the page will load as expected.