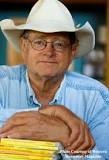 John R. Erickson is a real life cowboy and the brilliant author of the Hank the Cowdog series.
John R. Erickson lives on a ranch in the Texas Panhandle. He tends to get inspiring ion for his Hank books from his actual life. This is through the changing of the seasons, interactions with people, and the animals on his ranch including chickens, coyotes, cats, and dogs. Along with the Hank books, he has wrote several non-fiction books, as well as currently writing the screenplay for the upcoming Hank the Cowdog movie.
Ad blocker interference detected!
Wikia is a free-to-use site that makes money from advertising. We have a modified experience for viewers using ad blockers

Wikia is not accessible if you've made further modifications. Remove the custom ad blocker rule(s) and the page will load as expected.